Presenting Sunflower Font, A font that is specially designed by Maxim Schepin and Denis Schepin and published by Madetype. Sunflower typeface falls under the category of modern serif but with old-style elements. The designer of this font made it, especially for designs that want both fancy and modernism.
Sunflower font comes with a complete package of three styles which are sunflower light, sunflower medium, and sunflower bold. All of these styles have their nature and properties. If these styles are used professionally the result will be exceptional.
This typeface has both upper and lower case letters, punctuations, and numerical digits. It also has unique glyphs which make it a great choice for designing anything. On several occasions, people have considered this font just because it's versatile.
Uses of Sunflower Font
This typeface can be used anywhere in the design industry. So if you are a professional designer who wants to do versatile things to their project then the sunflower typeface is best for you.
Numerous writers have used this font in several places which means that it can be used in both bodies and heading of a document. You can use this font family without any cost only for personalized projects.
This typeface has qualities that can be used with many other fonts. The best combination of this font is with times new roman font because both have similar traits. Many applications support this font and some of those applications are Microsoft Word, Microsoft Powerpoint, Adobe Illustrator and Adobe Photoshop, etc.
There are plenty of ways that you can try this typeface and some places where you can utilize this font are advertisement, photo editing, wedding card, logo design, banner and poster making, blog header and quotes, etc.
License Info
This amazing typeface has paid license that can be used in any task that is related to the money-making business. Otherwise, it can be used for free for personal projects.
Sunflower Font Alternatives & Combinations
EquipCondensed Hoftype Font
Priori Serif Font
Ryo® Gothic PlusN Font
Grotesk FS FontSite Font
Sunflower Font View on Image Designs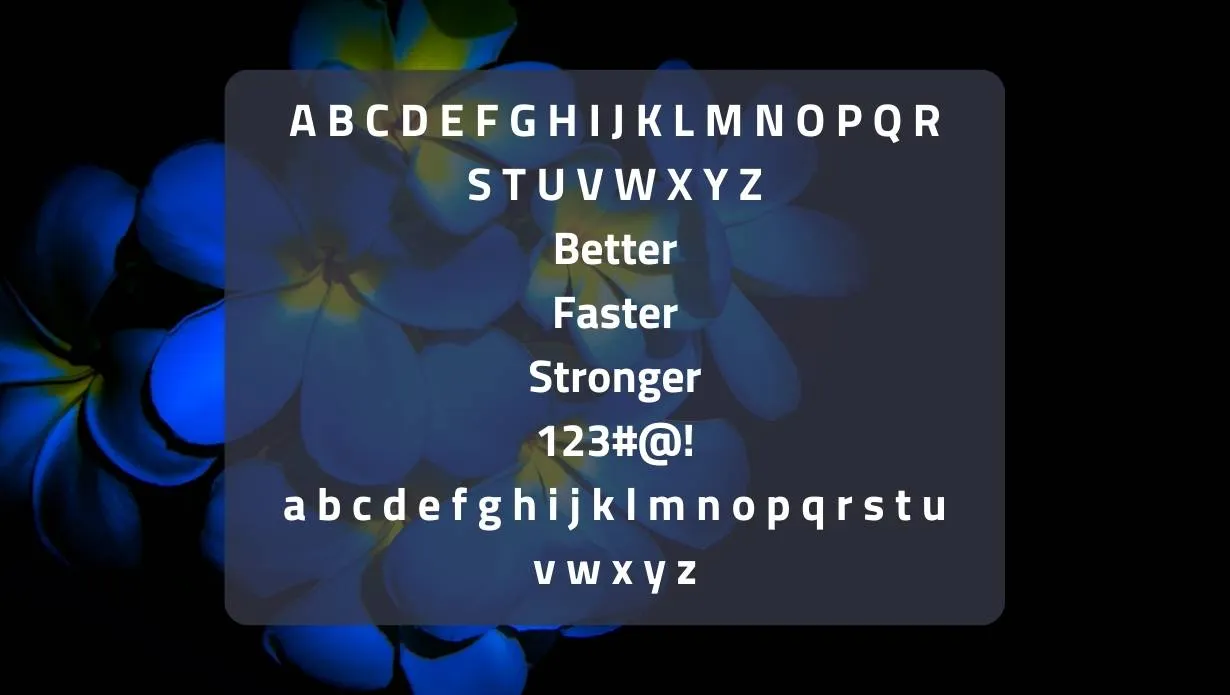 Font Info
| | |
| --- | --- |
| Name | Sunflower Font |
| Designer | Maxim Schepin, Denis Schepin |
| Style | Serif |
| File Format | OTF, TTF |
| License | Free for personal use. |
Download Sunflower Font Free
Create your new designs and templates with sunflower font and get amazing results. Now get this font for free. Just press the button below and the download process will start itself.
Language Support
Alsatian, Atayal, Kiribati, Seychellois Creole, Võro, Tahitian, Scottish Gaelic, Chamorro, Greenlandic (Kalaallisut), Albanian, Catalan, Chichewa, Ilocano, Kikongo, Kinyarwanda, Neapolitan, Xhosa, Tshiluba, Slovak, Danish, Gikuyu, Finnish, Norwegian, Sicilian, Sotho (Southern), Kirundi, Tswana, Sotho (Northern), Walloon, Asturian, Kaqchikel, Ossetian (Latin), Zapotec, Frisian, Guadeloupean Creole, Q'eqchi', Crimean Tatar (Latin), Sango, Luxembourgish, Samoan, Maltese, Tzotzil, Fijian, Friulian, Silesian, Sardinian, Galician, Ganda, Low Saxon, Waray-Waray, Makhuwa, Bikol, Kapampangan (Latin), Aymara, Ndebele, Slovenian, Tumbuka, Venetian, Genoese, Piedmontese, Swazi, Latvian, Silesian, Sardinian, Eston, Walloon, Asturian, Kaqchikel, Ossetian (Latin), Zapotec, Frisian, Guadeloupean Creole, Q'eqchi', Crimean Tatar (Latin), Sango, Luxembourgish, Samoan, Maltese, Tzotzil, Fijian, Friulian, Silesian.
People Also Ask
Who published Sunflower Font?
Sunflower font is created by Maxim Schepin and Denis Schein. It is published by Madetype.
Is Sunflower Font unprofessional font?
No, Sunflower font isn't an unprofessional font. It is used by many professionals throughout the industry.
How do you get Sunflower texture?
If you want this typeface then scroll above our site and find the download. Then download it for free.
Is sunflower font a commercial font?
Yes, it can be used for any commercial activity. But for that purpose, you have to buy its license from the official website.
Is Sunflower typeface easy to read?
Yes, this typeface is easy to read because every character has a clear and define the shape.