Introducing to you wonton font, a font designed by the Da Font Mafia. The name of this font tells us that this font is related to Chinese because every character and shape has a unique shape with sharp edges around its corners.
This typeface has brush strokes same as used in Chinese characters. Often this typeface conveys the message of old Chinese imperialism. Some users find wonton font interesting and amusing.
This beautiful and cultural typeface comes with the full package. The number of glyphs that are used in this font family is 245 and 1000 units per em. It comprises 252 characters with both uppercase and lowercase letters, numbers, and special characters.
This font is also specified in the CSS family which makes it easy for programmers to use this font freely.
Uses of Wonton Font
Uniqueness and different styles of characters make wonton texture demanding. Because nowadays some designers want to impress not only local companies but also international companies so using a font with a different background is rare.
Although, this typeface doesn't have many similar fonts ming font and Wonton typeface have the same background country which creates this similarity.
This font can be used anywhere. The places where this typeface can shine more are theme-based designs. For example, you can create an amazing poster with this typeface for Chinese restaurants.
To see how it will look in the designs use the font generator tool which will exactly generate the desired outcome.
License Info
The freeware version of wonton font is available for the usage of personal work. The paid version of this font is available for any advertisement business.
Wonton Font Alternatives & Combinations
Coarse Rounded Font
Exo 2 Font
Century Gothic Paneuropean Font
Ezarion Font
Wonton Font View on Image Designs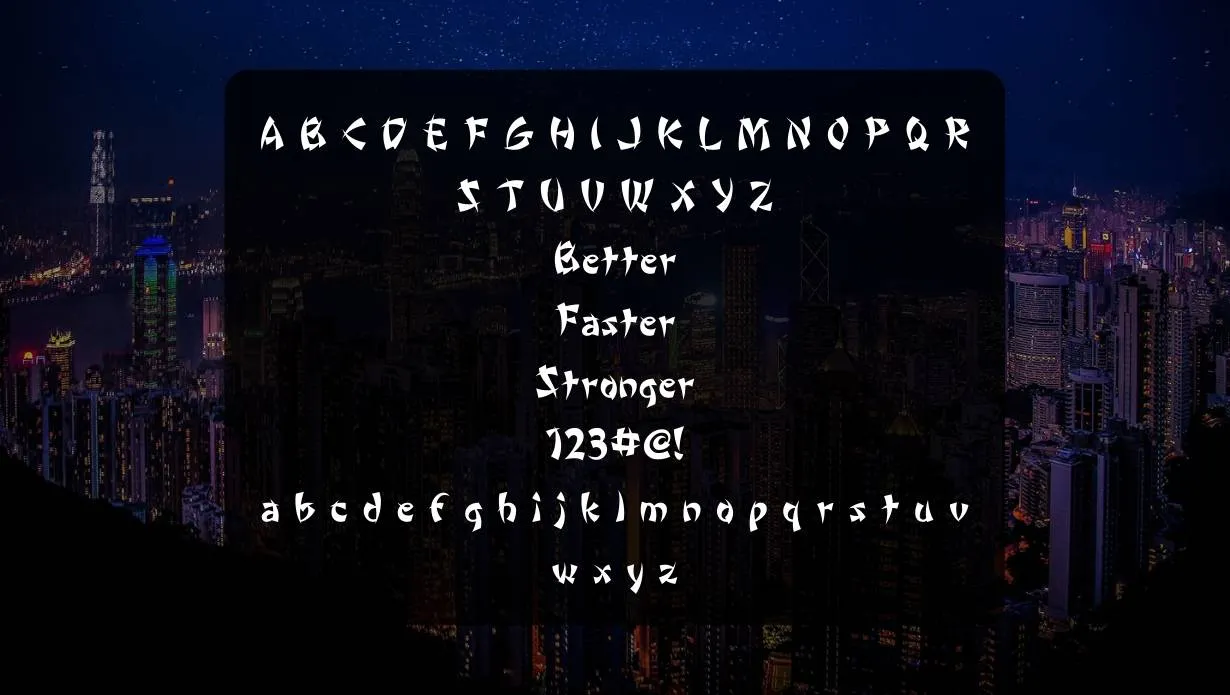 Font Info
| | |
| --- | --- |
| Name | Wonton Font |
| Designer | Da Font Mafia |
| Style | Gothic |
| File Format | OTF, TTF |
| License | Free for personal use. |
Download Wonton Font Free
Utilize Wonton typeface and creates awesome background graphics with this free version. Let the download begin by pressing the download button below.
Language Support
Corsican, Breton, Amis, Māori, Tok Pisin, Tongan, Alsatian, Atayal, Kiribati, Seychellois Creole, Võro, Tahitian, Scottish Gaelic, Chamorro, Greenlandic (Kalaallisut), Albanian, Catalan, Chichewa, Ilocano, Kikongo, Kinyarwanda, Neapolitan, Xhosa, Tshiluba, Slovak, Danish, Gikuyu, Finnish, Norwegian, Sicilian, Sotho (Southern), Kirundi, Tswana, Sotho (Northern), Walloon, Asturian, Kaqchikel, Ossetian (Latin), Zapotec, Frisian, Guadeloupean Creole, Q'eqchi', Crimean Tatar (Latin), Sango, Luxembourgish, Samoan, Maltese, Tzotzil, Fijian, Friulian, Silesian, Sardinian, Galician, Ganda, Low Saxon, Waray-Waray, Makhuwa, Bikol, Kapampangan (Latin), Aymara, Ndebele, Slovenian, Tumbuka, Venetian, Genoese, Piedmontese, Swazi, Latvian, Silesian, Sardinian, Estonian, Afar, Cape Verdean Creole.
People Also Ask
Can I use the Wonton typeface in Corel applications?
Yes, this typeface can be used in Corel applications such as Corel Draw and Corel Painter.
Is Wonton typeface a good type for PowerPoint?
Yes, wonton typeface is a good font for PowerPoint. You can create amazing theme-based slides using wonton typeface.
Is Wonton typeface a Windows style?
It is compatible with both Windows and Mac OS.
What font is similar to Wonton Font?
Ming Font matches the background of the Wonton typeface. This makes it similar to rex font.
Can I use the generator tool of Wonton typeface?
Font generator is an online facility that you can use to generate the text without installing it on a computer.